About Me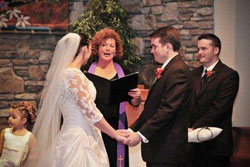 I'm Reverend Jacqueline Weiks and as a Legally Ordained Minister I've had the great joy and privilege in helping the most sacred time for many couples and families in North and South Carolina. I am devoted to giving you a "one of a kind" ceremony that you will cherish forever.
It has always been my purpose to bring families together with diverse beliefs and understandings.
Creating a successful occasion is in having a service that only an experienced Minister can provide. Since 1994 I have performed services in the some of the most beautiful locations in North and South Carolina.
I will embrace anything that a Bride and Groom can imagine for their perfect day. Hiking into your perfect location in nature is always a joy.
My
Rave Reviews
page demonstrates my dedication to your day and my professionalism. I am very proud to share with you the thoughts provided by my past couples as well as their experiences with their very special Day.
My commitment is to create a Wedding Ceremony that is written and performed especially for you. I highly encourage you to bring your thoughts into the celebration that you envision. That's why we will create your service together.
I have also written a variety of ceremonies that you can select from for you to personalize.
I so look forward to helping you create your perfectly joyous day.
With love and peace.
Reverend Jacqui
---
I am honored to also continue to serve you & your family with additional sacred ceremonies:

* Baptisms

* Large or Small Weddings

* Intimate Second Weddings

* Family Weddings with your children.

* Elopements

* House Blessings

* Vow renewals

* Anniversary Blessings

* Memorial Services

* Baby Blessing & Naming (during pregnancy or after the birth)

* Animal Blessings

* Surprise & Spontaneous Weddings

* Ribbon Cutting Blessing

* Corporate Blessings for Workshops & Meetings