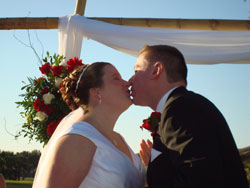 Dawn & Ty 10/20/12 Rev. Jacqui was fantastic!! We met her in Hendersonville to discuss our needs and then everything else was easy and through email. She lets us pick the framework of what we want - mix and match from ceremonies she has and then she worked in anything that we wanted that would be special to us. On the rehearsal day, Jacqui, Mandy and Corey Cagle worked beautifully together to make our outdoor ceremony on Lake Lure perfect. The ceremony was beautiful - all our guests kept raving about how wonderful and different it was - it was simply us. I love that Rev. Jacqui wants to personalize every ceremony she performs and make it unique to us. I would definitely recommend Rev. Jacqui to any of my friends and we feel very lucky to have found her.

Sharron & Thomas 10/20/12 Rev. Jacqueline Weiks helped us with the writing of our ceremony and helped to make the planning easy and stress free. The ceremony itself was perfect as we stood under the gazebo and looked into each other's eyes, we knew the words she spoke were exactly how we felt. The Reverend was very enthusiastic and seemed to be just as excited for us as we were ourselves. We couldn't have picked a sweeter, more helpful, and competent minister if we had tried. When we found Reverend Jackie, we knew she was the one who could help us make our wedding perfect and complete and she did exactly that! Thank you, Reverend, for all you did for us! We will never forget our lovely ceremony and we will cherish the words you spoke forever.

Michelle & Michael 10/19/12 Rev. Jacqui did such a fantastic job officiating our wedding. Her energy and spirituality was a welcome addition to the ceremony. She also went out of her way to make the details of the day as easy as possible so we could just focus on the special occasion and offered helpful advice for the logistics of the wedding. I would recommend Reverand Jacqui to any person of any faith; her ceremony selections are very versatile and very special.
Anonyms Rev. Jacqui was absolutely wonderful to work with. From our very first conversation, all the way to the end of the ceremony, Jacqui was kind, patient, and helpful. She even let us mix and match our reading and ceremonies to make one all our own (a big deal to me). All of our guests commented on how lovely the ceremony was and we couldn't have been any happier.

Carl & Susan Bossung 10/06/12 After interviewing several ministers for our destination wedding in Asheville NC it became abundantly clear that Reverend Jacqueline Weiks was the one we wanted to marry us. From the moment we talked with her we felt comfortable and confident in her services. She was responsive, upbeat and very helpful. Her consultation and services made it very easy for us to put together a wedding ceremony that was customized to us and achieved our desires for a meaningful ceremony that reflected our beliefs and marital goals. Reverend Jacqui was fun to work with and did a great job from start to finish. She is a very caring and quality minister that we would recommend time and time again to anyone. We wish her our best as she continues to bring joy and blessings to other couples who are uniting in marriage!

Justin & Kasey 10/01/12 Jacqui was fantastic. very very nice she was my favorite from the moment I spoke to her on the phone. Then my future wife got to meet her and loved her also. The ceremony went great & I would most certainly call on Jacqui again if I have friends getting married in her area Carey & Dana 12/31/11 Rev. Jacqui was great, from top to bottom. She's a good soul, as well as very supportive and affirming. We couldn't have asked for a better experience.

Christie & Rob 9/30/12 We were so impressed from the very first contact with Rev Jacqui! She worked with us via phone and email to put together the perfect ceremony for our small family wedding. We didn't meet her until the day of our ceremony and she jumped right in and even helped us "direct" our little ceremony. She was kind, warm and professional. I highly recommend her services.

Catie & Andy 6/16/12 Rev. Jacqui made our wedding so special. We planned everything from out of town and she was very helpful with making the plans via e-mail and phone. We were lucky to plan a trip to the area a month before the wedding day and got to meet with Rev. Jacqui for coffee. She walked us through some different ideas for the ceremony and had an incredible vision for seating and conducting the ceremony, which we ended up using for the big day. She was entirely open with the ceremony and incorporated personal touches that meant so much to Andy and I. I hope that Andy and I will have Rev. Jacqui there when we renew our vows.

Christine & Elliott 5/26/2012 Having Reverend Jacqui as our officiant was- by far- the best decision we made for our wedding. From the moment I met Jacqui, she felt like family. She worked with my husband and I and truly created the most memorable ceremony. From start to finish- she customized the entire thing to reflect our personalities. She listened to our ideas and just went with it. She was a calming presence for the entire event. Family and friends are saying that it was the most unique and personal ceremony that they have seen. I made a lifelong friend in Reverend Jacqui and couldn't be more pleased and appreciative of the wonderful ceremony she gave us.

Sondra & Tim 02/04/2012 "Jacqui was absolutely wonderful to work with. Upon our first meeting with her, we knew we wanted her to be the one to officiate our wedding. She provided us with several options of ceremony wording and worked with us as we created our own using several of the options she gave us. She even did a special blessing for us upon request. Her optimistic demeanor was contagious and we couldn't help but feel comfortable and at ease before, during and after the ceremony. We would highly recommend her."

Pam & David 02/03/2012 "Reverand Jacqui was there for us at every turn. We were planning a small wedding, and we had one, yet our small wedding was fantastic! Jacqui helped us with everything from vows, kids vows, entering the room, music, and more and took our little wedding from average to amazing in the blink of an eye! She was very responsive, she definitely knows what she's doing and loves her work. We have great memories and would recommend her to anyone!"

Carey & Dana 12/31/2011 "Rev. Jacqui was great, from top to bottom. She's a good soul, as well as very supportive and affirming. We couldn't have asked for a better experience."

Tom & Marion 10/25/2011 "Having the reverend Jacqui performing our ceremony, made our day even more joyous. Thank you soo much for all your help with writing our ceremony!"
Love always, Tom and Marion Wiler, Kuwait

Amy & Ricky 10/23/2011 "Rev. Jacqui is amazing. Everyone who witnessed our ceremony said the same thing; it was the best ceremony they have ever seen" Rev. Jacqui's true love for what she does and who she is shines through brightly. My lovely wife and I are truly thankful to have met Rev. Jacqui and feel blessed for the beautiful part she played in our magical day. She felt like she was part of the family. My wife, Amy, and I would highly recommend her for your wedding needs. You will feel her passion and loving spirit from the first time you talk with her until the time she performs your ceremony."
Blessings- Ricky and Amy Roberts

Michelle & Bruce 10/21/2011 "She was most thoughtful and responsive to our unusual needs . We had hired another for a Florida wedding then at last minute had to cancel, Jacqui fit us in and made suggestions that helped us both write our vows and to have an amazing experience . She was accommodating to our schedule and our grandchildren who we wanted to have a memorable experience . She was professional and we would recommend her to anyone who wants a nontraditional, relaxed yet meaningful ceremony."

Reed & Sandra 6/11/2011 "I found Reverend Jacqui on the Internet because I am new to living in North Carolina and I feel like it was divine intervention! Not only was she the most amazing officiate, but she is now a friend too. She exudes the most positive, calming energy and as soon as I met her for lunch, I knew I wanted her to be the minister for our Wedding. She let us customize our entire ceremony and she made it so simple for us to do because she has several pre-written ceremonies to choose from. She encouraged us to tailor it so it would really reflect what we wanted on our wedding day. I couldn't even read through the ceremony without crying. It was beautiful. She also did such an amazing job during the ceremony! She is a natural speaker and we received so many positive comments about her. We even had some guests say they want to use her as their minister too! Lastly, my husband and I have different religious backgrounds and she smoothly came up with a ceremony that encompassed exactly what we both wanted. She's awesome!"

Marc & Stacy 5/7/2011 "We felt so very blessed to have Reverend Jacqui serve as our pastor for our wedding. She was very thorough, incredibly responsive so personable, it felt like we've known her for years. We held our wedding in Asheville, NC and being from Florida, we didn't know who could marry us so Reverend Jacqui was recommended to us by the B&B, The Reynolds Mansion we stayed and also had our wedding ceremony. One thing that really impressed us was she took the time to spend with us to really get to know us on a personal and soon to be married couple. She made sure she accommodated what we were looking for in a ceremony but also provided us wonderful suggestions that helped it go smoothly. We'd recommend her in a heartbeat!"

Jerry & Renee 4/6/2011 "Jacqui was an angel! We are from out-of-state, and she came recommended by the area's Chamber of Commerce. She was easy to get in touch with, flexible with our plans, and she came to our desired location (a beautiful waterfall in Highlands).
She was very attentive and made sure our day was completely about us and what we wanted. Our ceremony was beautiful, her words were so loving, and she has a great energy about her. We feel very blessed to have her officiate our wedding ceremony and be a part of our special day."
Thanks Rev Jacqui!

Ernie & Allie 5/21/2011 "Reverend Jacqui was great, our ceremony was just what we wanted it to be! She is very open minded, and only wants you to have the wedding that you want. Her sample ceremonies were great, as we did not know how to write our own vows, but wanted them to be something unique and meaningful. She also knows how to direct the crowd, and projected her voice during the ceremony. Her rates are very reasonable. Overall we are so happy we chose her, and highly recommend Reverend Jacqui!!"

Julie & Sherry 9/28/2011 Truly a pleasure to work with. Made every effort to customize our commitment ceremony and make our day special. Always available to help and I would recommend Rev. Jacqueline to anyone wishing for a caring, loving and committed minister.

Lori & Paul Valone 9/10/2011 Reverend Jacqui Weiks did a wonderful job of officiating our marriage ceremony in the western North Carolina mountains, in a meadow by a waterfall. Rev. Jacqui worked with us to tailor a ceremony just right to reflect our unique relationship and executed it flawlessly. Engaging and professional, we would not hesitate to recommend Rev. Jacqui for anyone desiring a spiritual, but not overtly religious ceremony to commemorate their marriage.

Avery & Evan 11/21/2009 "Jacqui is absolutely wonderful! She chooses such beautiful words not only in the ceremony she writes, but also in her everyday conversation. She helped me so much, and each time I spoke with her I felt like my wedding day was her number one priority. I will never be able to thank her enough for making my ceremony such a beautiful event."

Melissa & Ben 10/17/2009 " Rev. Jacqueline Weiks was an amazing officiate for our wedding. We were very lucky to have been blessed with finding such a wonderful woman. She was very professional and sweet and catered to exactly what we wanted. What a delight! We highly recommend her."

Ed & Linda 9/26/2009 "We are very pleased with the quality of the ceremony Rev. Jacqui conducted at our wedding. She led us through a warm, personal and highly inclusive ceremony, a fact that was not lost on our guests--a number of guests in in the audience told us how meaningful and inclusive they found Rev. Jacqui's ceremony to be, and one couple asked us for a copy of the ceremony she used! Rev. Jacqui is professional and responsive, and we would highly recommend her to other couples."
Thank you, Jacqui!

Ben & Kristin 5/23/2009 "Rev. Jacqueline Weiks is the best! She performed my sister and brother in laws wedding 3 years ago, and we wouldn't have anyone else do ours. She put together a great ceremony, just how we requested it. She went out of her way to drive several hours to get to our rehearsal and ceremony. We cannot recommend her services any higher."

Ron & Virginia 8/3/2008 "Rev. Jacqui was wonderful. She provided recommendations for our vows and helped us with our personalization of the vows. She was a great help at the ceremony as she guided the process along, and she had a couple of lovely surprises for us during the ceremony. I would strongly recommend her for someone who wants a loving, spiritual service.

Mike & Allison 7/18/2008 "Rev Jacqui provided a beautiful service for us at Chimney Rock Park. My husband and I renewed our vows for our 10 yr wedding anniversary. Rev Jacqui gave us many different examples to choose from that best fit our lifestyle. She helped to make it a wonderful event!"


---